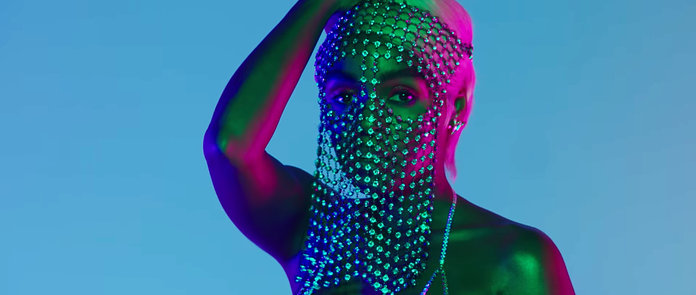 Directed by Andrew Donoho ,'Django Jane' is the title of the new song (and video) released by Janelle Monáe,  on February 24th. In true fashion, Ms. Monáe captures us with her ridiculously striking visuals. The video is an ode to black women's empowerment and features the songstress sitting on her throne with a group of equally fierce looking women standing around her as she spits her thought provoking bars over a hard hitting instrumental.
As if that wasn't enough, earlier that same day she released the song 'Make me feel' alongside its colourful visuals. Just looking at the music video alone, I think it's safe to say that Ms. Monáe, has really done something here. Some are even calling it the 'Brilliant bisexual pop anthem' you need to see and hear. The scene opens up with her and rumoured real life girlfriend Tessa Thompson walking into an underground grungy type bar surrounded by other bar goers who have been set up to look like the late David Bowie. Throughout the video, we see Janelle dancing and moving between her male and female loves. There's a lot of movement, there's lots of colour, there's lots of light. It's fun, it's sexy,it's sexual and to top it all off, the sound is very reminiscent of the late Prince who was actually helping her on her upcoming album before he passed. There's nothing to fault here and there's nothing to not like. This particular project is brilliant.
Speaking to Zane Lowe who debuted the song on Beats 1, Monáe was quoted as saying, "I actually had this title on this concept before my first album 'The ArchAndroid', and it scared me because a lot of the things that I knew that I needed to say were very deep, very personal, from the heart. You know, this is an extremely vulnerable album and it took me a while to make it because I'm a self editor." We're definitely very keen to hear what the rest of the album has in store for us because so far, we are sold! Dirty Computer is due to be released on the 27th of April.
Article Tags:
Dirty Computer
·
Django Jane
·
Janelle Monáe
·
Make me feel