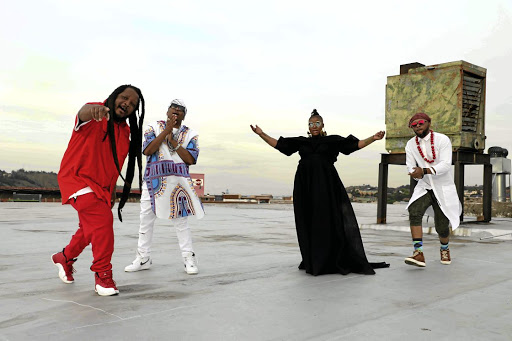 They are known for hits like 'Thath' Is'gubhu' and 'Kura Uone' and after ten years with no new music while focusing on their individual hustles, South African Afro-pop mega group, Bongo Maffin are back with a new track and it is hitting the airwaves hard. The group, which consist of vocalists Thandiswa Mazwai, Speedy or Harold Rangakane Matlhaku, Stoan Seata and Jah Seed whose real name is Adrian Anesu Mupemhi, was formed in the early '90s and they are known for their iconic afro-centric Kwaito sound.
They released their first studio album, The Concerto, in 1998, followed by Bongolution and New Construction before the band stopped recording together.
'Harare' is the perfect come-back for Bongo Maffin; it bursts with energy and carries a distinctive Afro-beat influence. The song doesn't stray away from their signature sound; in fact, the Bongo DNA is engraved in the track and will take listeners back to the heydays of 'The Way Kungakhona' and 'Bhongolution'.
Listen to the song below:
Article Tags:
Afique du Sud
·
Bongo Maffin
·
Jah Seed
·
South Africa
·
Speedy
·
Stoan Seate
·
Thandiswa Mazwai